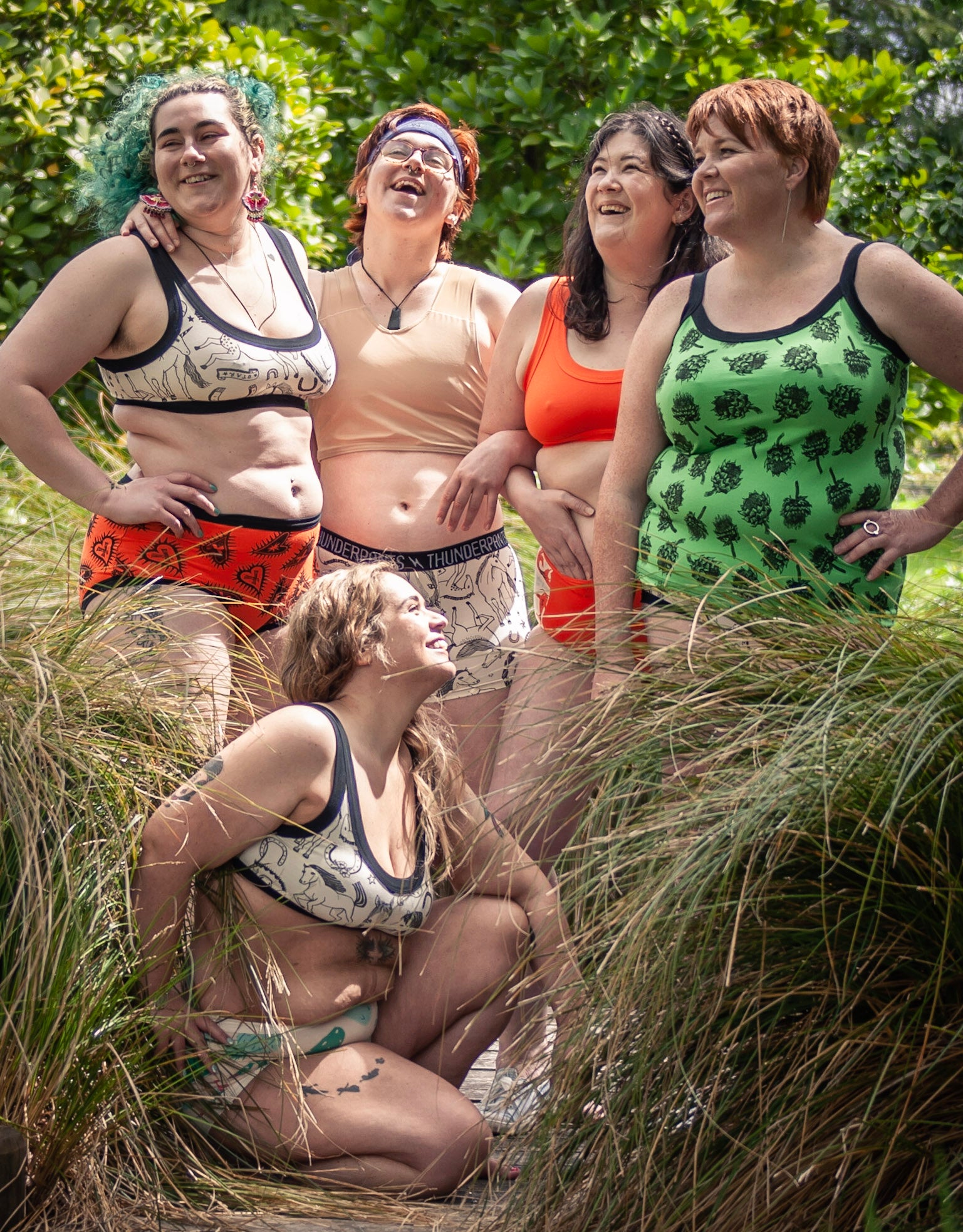 We decided it was about time that we showcase not only our most FABULOUS cottons, but also the real and fabulous people that wear them. We sent an ad out into the world calling all shapes and sizes, colours and genders - to everybody and their bodies. Calling out to you, all the non-models out there to strut your stuff and celebrate what you got! 
We received responses from all over the country and each came with their own beautiful story. So we hopped to it, decided on our first photoshoot location and got in touch with our first beautiful group of non-models.
Say hello (from left to right) to Hannah, Katie, Shannon, Arden and Salem!
The day was a Monday and it was a bit grey. But the spirits were bright and the enthusiasm was alive! We all headed to Drummond Farm where we were met  by the fabulous photographer
Lucy Cooper.



A few props were brought along on the day - here's the beautiful Shannon looking bright and dreamy in Tangerine Dreams with one of Lucy's hoops!



Also having fun with the hoops - the fabulous Hannah! Her infectious smile was a ray of sunshine on the slightly grey day!
The marvellous Salem knocking it out of the park! Thunderpants pup Malo decided she couldn't miss out on the action too. And what an action shot it was!




 The fantastic Katie totally rocking it in front of a classic Massey! Picture perfect we think. 



The fab and fierce Arden, absolutely owning it. Look at those colours!
 
Thunderpants family portrait anyone? Apart from Salem and Arden (who are siblings) you'd never think it was everyone's first time meeting each other! 


We had a fantastic day meeting and working with such a fabulous bunch of people who have inspired us to keep the non-model photoshoot ball rolling! Watch out for the next round of fabulous photos and feel free to drop us a line at info@thunderpants.co.nz if you would like to get amongst it!
Comments (1)