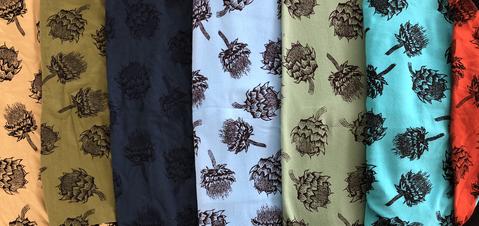 Nearly 25 years on from their first appearance, we are re releasing one of our founding and favourite Thundies prints...  artichokes.
Having fought off the whispers and chants of "bring back the artichokes" for a few years... the time has come for comfort lovers to upgrade their veges. 
Here's a picture of the very first artichokes print run. The screen print was made from hand carved woodblock designs...see how much further apart the artichokes were in 1995.
THEN: Here is one of the very first pairs of green artichokes, note the wider leg and waist bands. This and the rather terrifying company, date them squarely in the '90s!
A small selection of the colours we have printed since 1995...
 AND NOW: The new Pea Green Artichokes now available on the website...
It's crazy to think how far we have come and how much we have grown in that time, but also reassuringly marvellous to see that nothing much has changed. Our bands may be a little thinner, our colour a little brighter, but we're still the happy producers of the same comfy undies that won't go up your bum!
Comments (4)