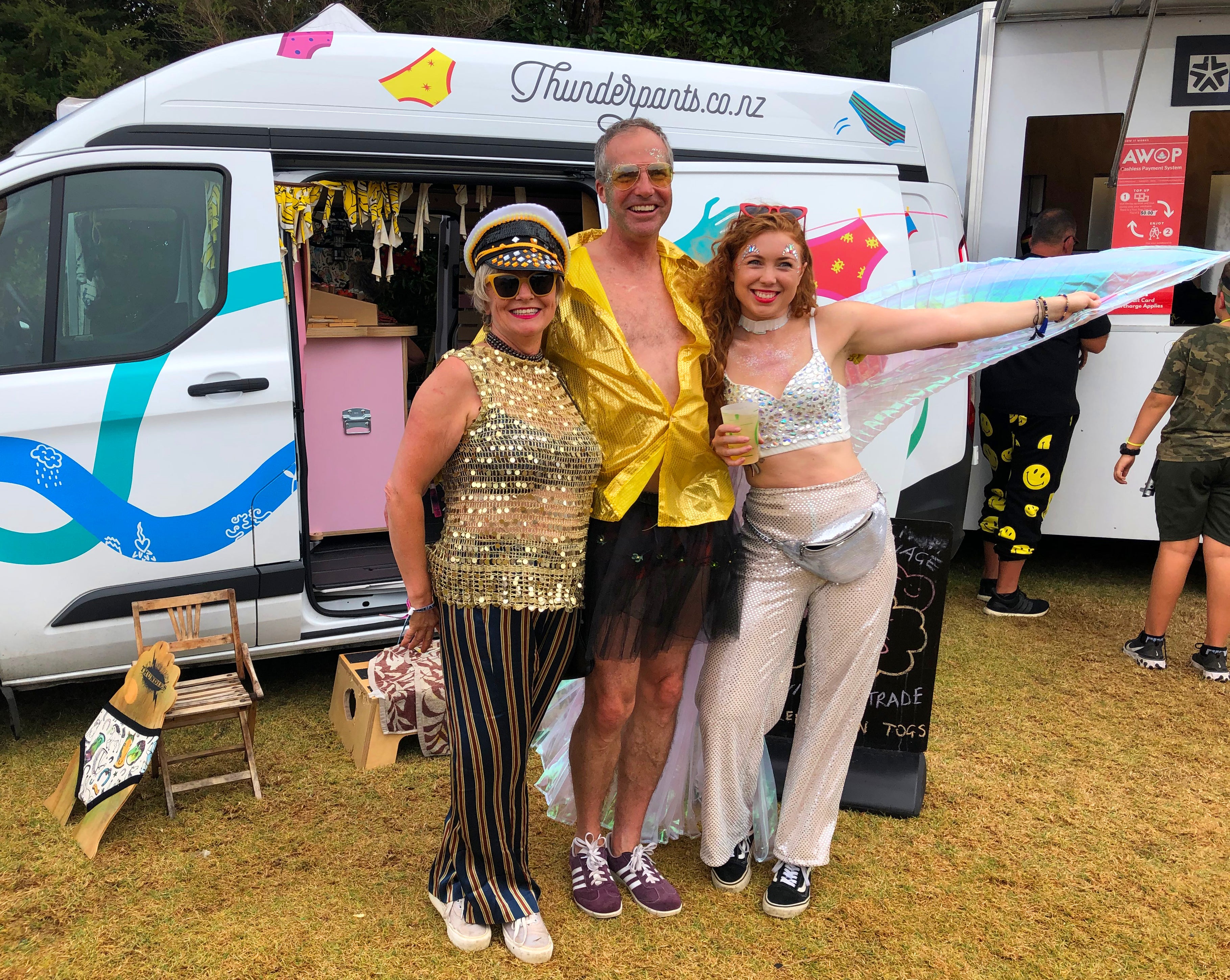 We had the BEST TIME at this three day dress up festival extravaganza situated on the shores of Tāpapakanga Regional Park. A music and arts festival like no other, filled with the most joyous people of all time!
We took the Panty Wagon on it's very first road trip 6 hours north and oh did it turn some heads along the way! Packed full to the brim with undies, crop tops, camis, boxers, kids pants, leggings, our new swimwear, napkins, and tea towels in all sizes and prints along with some stock for dyeing and spraying! 
We were parked up in Wellness Section of Splore where we were surrounded by the most amazing creatives and felt truly inspired for the whole weekend.
A massive thank you again to the wonderful Cannibal who designed the interior of our new wonderful Panty Wagon and Greta Menzies for the fabbo outside gloriousness. We love you !!!
Creative Thunderpants extraordinaires Leah and Alex were out the front of the Panty Wagon Indigo dyeing, hand painting and drawing out the creative juices from curious passers by! 
Various ways of tying and dyeing were used to give special shibori affects after they were dunked in the Indigo vat. Photo credit @cindybaxt IG
Just look at these bicycle shorts! Wrapped in Jellyfish-like circles using elastic bands and patience, they came out a treat!
These cuties stopped by for a spot of hand painting and left with their one of a kind watercolour thundies!
 We also met the lovely Emy who stayed awhile to hand paint a horsey frock! It took as long as it looks like it did and reinforcements were needed but it was definitely worth it. We LOVE the painted negative space and will definitely be using that idea again! 
And this gentleman was more than happy to upgrade his underpants to a pair of Tangerine Hearts and be rid of his oldies!  
Splore you were EVERYTHING we had hoped for and more. Thank you for giving us a platform to share Thunderpants with a wider audience and the opportunity to meet and form new connections with such marvellous people. We're so excited for Splore 2021 already! 
Comments (0)