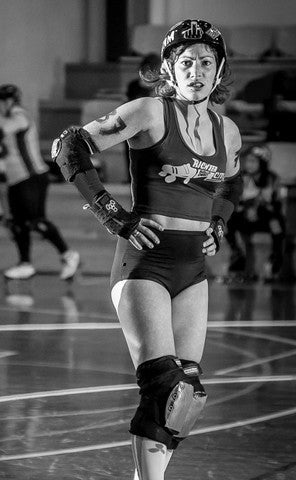 We're super-excited to announce that we recently added Richter City Roller Derby to our growing philanthropants family.

Roller Derby is incredibly fun and hugely exciting to watch, but what we especially love about Richter City is that they're a group of women who emphasise empowerment of all their members with the development of athletic ability, good sportswoman-ship and dedication to the game.

We're proudly designing and making Richter City their new uniforms (stay tuned) and providing the team our undies to sell at bouts to raise money for the league. For every pair of undies sold, $10 goes directly to Richter City.

Working tirelessly on and off the track to develop their league and the sport, Richter City are dedicated to giving their fans exactly what they want – Beauty, Brains, Bruises – and Roller Derby!

Go check out a bout, or check out how the game is played here, or donate to their give a little page here.

Photo: Ella Kazam wears Thunderpants, photography by Miranda Mayle.
Comments (0)