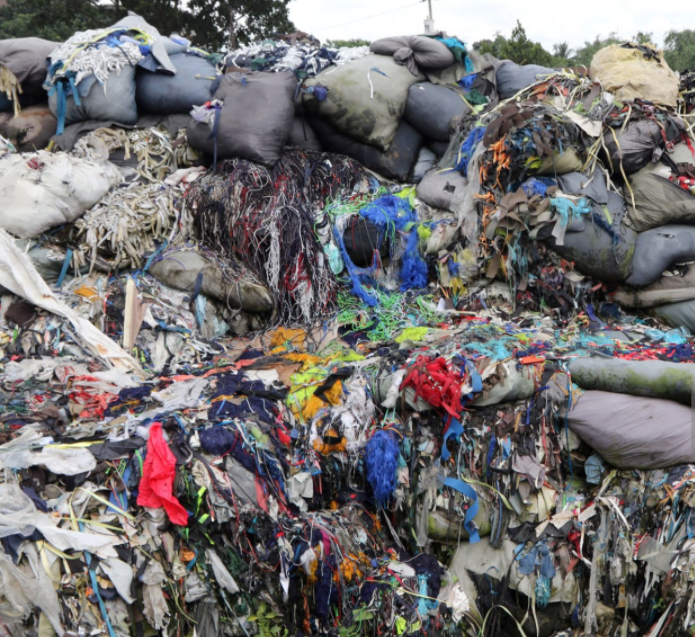 What is Product Stewardship?


Product Stewardship is a way of reducing waste by adding value to that product at the end of it's life and increasing the recycling of products that cause environmental harm when they become waste. Good product stewardship helps to identify the materials that should be substituted because of their impacts on health and the environment.
Taking responsibility and being active within product stewardship may range from designing a product which can be broken down into recyclable or reusable components to responsible disposal or recycling of a product.


CREDIT: Manuel Trinidad Mesa/Shutterstock


By substituting environmentally harmful materials for safer and greener alternatives, a company can show its efforts towards having a responsible supply chain. 
Most Thunderpants products are made up of 90 -100% cotton so
 as a business we have chosen to purchase Fairtrade Certified Organic Cotton yarn for our bulk production. 
This has an enormous social impact on the growers and workers in India where our yarn comes from, alongside minimising the ecological issues around cotton growing and production. 
As swimwear isn't great made from cotton we have decided to make ours from recycled nylon. Virgin nylon uses a lot 
of
 fossil fuels to create so by recycling it we are diverting a lot of plastic from landfills. 
Recycled nylon is made
from pre and post consumer waste like fishing nets and carpet, stopping large quantities of these items ending in the ocean or landfills. The quality of th
is
 fabric is very high which makes it last a lot longer, which 
means consumers don't need to replace these items as quickly.
 
"IN THE FASHION INDUSTRY, 10-20% OF ALL FABRIC ENDS UP AS OFFCUTS IN LANDFILL."


It's our aim to minimise waste at every opportunity. We save all the Thunderpants scraps and give them a new life in various different ways, helping keep them out of landfill and promoting reusability. We feel it's all about businesses taking responsibility for the products they make, sell and buy so they're not ending up in landfill.
We get lots of ties of our lovely organic fabric tied around the bundles of Thunderpants. They make great ties for gifts and are free from toxic chemicals so safe in kids toys. 
Our fabric is 90-100% organic cotton so the ties make excellent garden ties for your fruits and veges.

Look how colourful and cute they look and even better yet, they break down over time!
 A lot of people also get in touch about receiving Thunderpants scraps for various craft uses. From stuffing cushions and puffs, to creating hooked or sewn up rugs, there are so many ways you could use the offcuts and we'd love to hear your suggestions.
We have many people use them in the garden as the best mulch ever. Pop a nice thick layer under bark and you wont have to worry about watering your trees during dry spells. Please keep away from waterways though due to the spandex content.
One of the owners of Thunderpants put so much on her newly planted trees that after the initial watering they didn't need watering in Martinborough for over a year! This was three years ago and these trees are now more of a forest.
Bags of scrap are sent anywhere in the North Island that accepts couriers, no P O Box or Rural addresses sorry. The bags themselves are free, we only charge the courier fees to get them to you. 
LOCALS CAN PICK UP AS MUCH SCRAP AS THEY LIKE GRATIS, ORDER THEM ONLINE AND SELECT PICK UP AS DELIVERY. WE WILL PLACE THEM OUTSIDE THE GATE FOR PICK UP WHENEVER YOU LIKE AT THUNDERPANTS HQ IN MARTINBOROUGH.
Have you heard about our Patchwork Pants? These pants are a glorious mix & match of all the bits of fabric not quite big enough for normal use and potentially sewn up with leftover thread colours not currently in use. 

We think any slightly unfavourable colour combination is more than made up for by the feel-good properties of planet saving !
We've teamed up with the beautiful Danu Natural who reuses our Thunderpants material to create these cute little bags for her reusable bamboo period pads! All Danu products follow the simple principle of wear, wash and reuse and are proudly plastic free. 
Another awesome business that has reused our scap are Offcut. These guys are a leading example of how we can buy and consume less. 
"We're not going to change the world by making hats... and we're not trying to. What we're trying to do is make people realise that the first step in reducing human over-consumption is to make use of the resources we've already invested in making." 
A lot of us are already routinely interacting with a product stewardship scheme of some sort without being aware of it. What we need to continue doing is looking ahead at the life span of the products we're consuming and where they're likely to end up when we're finished with them.

It's safe to say that as a society, we hope to get to a place where if products cannot be reused, recycled or composted, we shouldn't be making them. 

As always we'd love to hear your thoughts, suggestions and feedback.
Love from all the team at Thunderpants x 
Comments (0)